Reliable Whole House Power Generation in Kyle, TX
We've all found ourselves staring at the television during hurricane season, watching the "spaghetti" map of potential storm paths and wondering if it would choose the one that led to our home. One of the biggest concerns when a major storm comes through - hurricane or not - is the potential loss of power. Depending on the amount of damage, the utility company could have things restored in a few hours... or a few weeks. Wouldn't it be nice to not have to stress about whether it's the former or the latter? With a whole home generator, such as those manufactured by Generac, you'll never have to worry.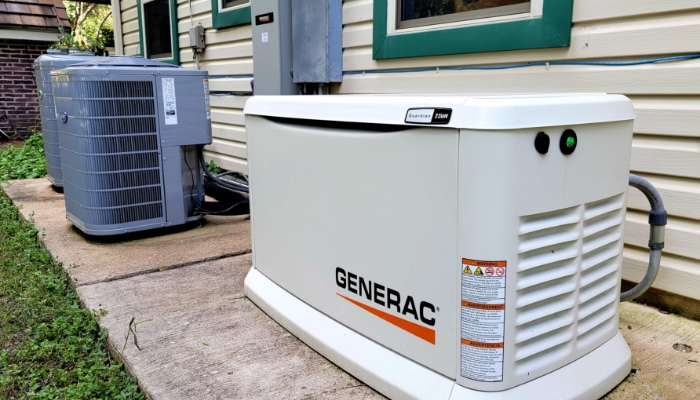 Stay Bright When the Lights Go Out
A whole house generator is a major investment, so it's important to know the benefits having one can bring to you and your home:
Safety First! - Losing power can cause a number of safety hazards that can be mitigated by a whole home generator. Keeping the lights on can prevent injuries from falls or impacts in the dark. People who rely on sophisticated, powered medical equipment can avoid major health issues. Your home's security system will remain up, keeping you protected at the pre-outage level.
Continuous Comfort - When the utility power goes out, a whole home generator detects it and automatically starts up and takes on the power load itself. You may notice a brief outage but your lights will come right back on - with enough power to keep everything in your home running.
Food Preservation - A major concern during a power outage is food in the fridge or freezer spoiling due to a lack of proper refrigeration. A whole house generator makes sure that all of your major appliances stay on and operational, keeping the food available for you and your family and saving the expense of having to throw it out.
Ongoing Plumbing - Many homes use electrical water pumps to power their plumbing. In an outage, access to that water and waste disposal could be lost. A whole home generator can prevent that issue by keeping the pumps powered and functional. Plus, if the outage happens in winter, the generator will keep the heat on so your pipes don't freeze up.
Understand the Investment
While there are many benefits to having a whole home generator, it's important to understand the level of expense involved. It's a major investment for your home, but some think the price they see on the manufacturer's website (usually in the $5000-$8000 range) is all they'll have to pay. Installing a whole home generator and wiring it into your home's grid involves significant skilled labor, so expect to spend somewhere between $12000 and $15000 for the generator and the installation.
You Have the Power!
Ready to take the plunge and ensure your home will never go dark? Garner Heating & Air Conditioning can help you find the right solution for your home and install it with professional craftsmanship. Call us today at 512-392-2000 and get started!