Restore Your Comfort on Hot Days in Hays County
When your AC is having trouble, it might display one of several signs that mean it is on the fritz. Or, it may have stopped working completely. Garner knows how to get to the root of an air conditioning repair job so that your home can be fresh and cool once more. And we'll leave you with knowledge on how to avoid a similar repair in the future.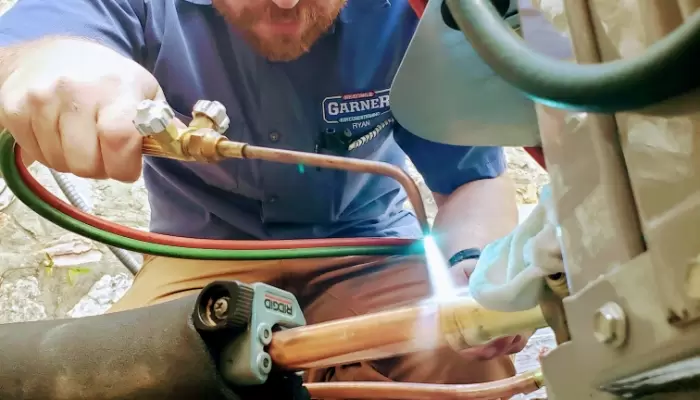 How do I troubleshoot my AC in my house?
There are a few things you can do to troubleshoot your AC at home. First, check the filter to see if it needs to be replaced. If the filter is dirty, it can restrict air flow and cause the AC to work harder than it needs to. Second, check the thermostat setting to make sure it's set to "cool" and that the temperature is set lower than the current room temperature. Third, check the breaker to see if it has tripped. If so, reset it and see if that fixes the problem. If you do all these things and still can't figure out what's wrong with your AC, have a professional HVAC technician come check it out.
What causes my outside AC unit to stop working?
The most common reason for your outside AC unit to stop working is an interruption in power. This may be caused by a tripped circuit breaker or by the on/off switch (typically located in a small box by the outdoor unit) getting flipped. Other issues that might cause problems for your outdoor AC unit include frozen coils, electrical issues and fan problems. If your exterior AC unit is not working, have an HVAC professional examine it as soon as possible.
What to do if my home AC system is not cooling?
If your home AC system is not cooling properly, the first thing you should do is check the thermostat. You'd be surprised how often AC problems are just a thermostat that's been accidentally set to the wrong temperature or turned off! If everything looks right, check your air filters next. A clogged and dirty filter will restrict airflow to your AC, which can cause it to shut off. If your filters are clean and your thremostat os working properly, your next step should be to call an HVAC professional to run a diagnostic and recommend appropriate repairs.
Signs You Need an Air Conditioning Repair
There are many signs you could benefit from a repair other than your AC just completely failing or blowing hot air. Ignoring them could lead to a bigger repair and sometimes they are problems within themselves. Call for a repair today if your AC is not working!
Odd noises, including banging, squealing or grinding.

Odd smells.

Excess moisture.

Weak airflow.

No AC response from thermostat.
Choose the Company That is Speedy Yet Reliable
Garner will never rush through a repair. Our experts are professionally and thoroughly trained to quickly identify an issue and take prompt action while not skipping a step. They are all EPA certified, friendly and from a strictly drug-free workplace. We also take pride in our:
Carrier Factory Dealer Authorization

100% Satisfaction Guarantee

Dedicated Team With no Subcontractors

35-Year History of Being in Business
If you are interested in steps to avoid repairs in the future, check out our page on, "Why Maintain Your System?" Regular HVAC maintenance is our top recommendation for avoiding breakdowns as well as extending the life of your system and having a system that runs at maximum efficiency.
Call us at 512-392-2000 when you're having air conditioner problems. We'll fix it in a jiffy!