AC Installation You Can Rely On.  Serving Kyle, TX and Hays County
Replacing an air conditioner is a major decision. It can be hard to know who to trust and how to get your issues taken care of the way you want them. Garner has been in the business for over 35 years, and have established ourselves as a dependable HVAC company in Hays County. We have crafted our business to be a top choice for air conditioning unit replacement that proves itself over and over.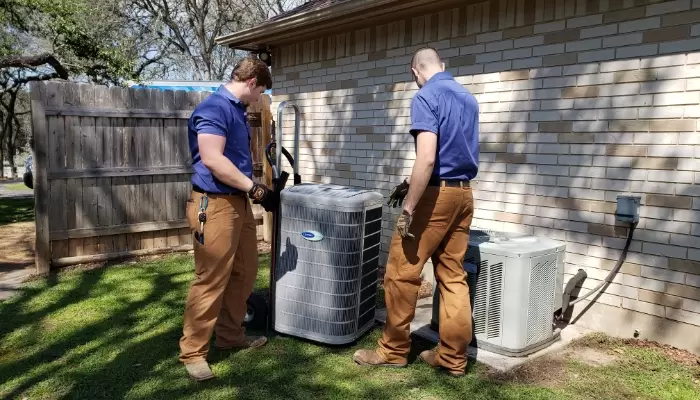 What is the average cost to install a home air conditioning unit near Buda TX?
The average cost to install a home air conditioning unit in Buda, TX is around $7,000-$12,000. The price can vary depending on:
The type of air conditioning unit you want installed.
The size of your home.
The level of insulation your home has.
The cost can also be affected by the size of the air conditioning unit you need to cool your home. To learn more about getting a home air conditioning unit installed, give us a call today.
How cool should my house be if it's 100 degrees outside?
If it is 100 degrees outside, it is recommended that you set your home to 75-80 degrees or higher. Most air conditioning systems can only maintain a 20 degree difference between the temperature outside and the temperature inside. When it is 100 degrees or more outside, your air conditioning system will be working at its max to keep your home cool. To minimize the load on your AC unit, you should close your blinds and implement other ways to reduce the temperature inside your home naturally. To find out more about how cool your home should be when it is 100 degrees outside, contact us today.
How often should you replace your home air conditioning unit?
You should usually replace your home air conditioning unit every 10-15 years. Some factors that may cause you to replace your air conditioning unit sooner or later are the type of air conditioning system you have and how often you have it serviced. To get the most out of your home air conditioning system, you should have it serviced at least once a year. If you do not have your home's air conditioning system serviced on a regular basis, it can decrease the service life of your home's AC unit. To get your home air conditioning unit replaced, call us today.
Selecting the Perfect Air Conditioning Replacement
Garner can help you decide on your ideal AC efficiency, sizing and type. Your considerations will always be taken into account to provide you with the perfect fit. Our NATE certified installer can bring you the benefits of a new:
Centralized Air Conditioner - If you have decent ductwork, a centralized system may be best suited to your needs.
Heat Pump - Get both efficient AC and efficient heat from a quality heat pump.
Ductless Mini Split - No ducts? No problem. A mini split system is also a great way to save energy by strategically heating and cooling, or zoning.
This is Why Hays County Puts its Trust in Us for AC Installation
We truly appreciate the relationships we have made with homeowners as we have fitted them with brand new systems. We prove ourselves by providing:
100% Satisfaction Guarantees

Free diagnostic with any repair

Professional Licensing, Qualifications & Experience

Carrier Products as a Carrier Factory Authorized Dealer

Lifetime Limited Warranties

Only Our Own Professionals - No Subcontracting
Is your Hays County home ready for a new AC system? Give us a call at 512-392-2000 to get a free estimate!