Get Heat & AC Delivered Where You Need It
There are many reasons to expand or renovate your ductwork. Maybe you currently have a ductless house and want central heating and air. Maybe you want to add new rooms to your home or utilize the basement. Or, maybe your ducts are in disrepair and could use a little more than sealing. Whatever air duct installation you need in Hays County, Garner can provide you with professional, dependable ductwork.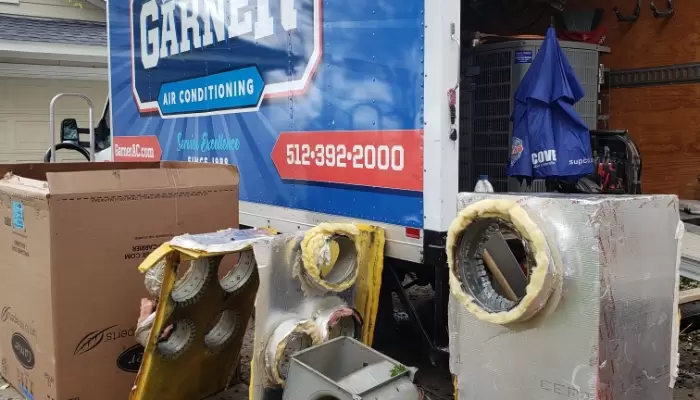 How much does it cost to install AC ducts in a house?
Ductwork installation generally costs between $3,000 and $9,000, with a national average of around $6,000. Faulty ductwork can result in energy losses of up to 50% for your HVAC system. Although installing HVAC ductwork is expensive, the money you save over time will be well worth it. The final price varies depending on the system's size, materials, and location.
Is replacing ductwork worth it?
The maximum lifespan of ductwork is 20 to 25 years. However, after 15 years, it starts to deteriorate and significantly lowers the efficiency of your HVAC system, making replacement the wiser course of action.
The ductwork expands during the winter because of heating, while it contracts because of cooling during the summer. This temperature caused movement can separate seams and ductwork, leading to leaks. Poorly sealed ductwork that is not fastened with screws, mastic, or aluminum duct tape may occasionally pull itself apart completely. Return duct disconnections are also a possibility.
How much does it cost to put in HVAC ducts near Austin?
The final price varies depending on the system's size, materials, and location. Ductwork installation generally costs between $3,000 and $9,000, with a national average of around $6,000.
This is presuming that 300 linear feet of aluminum ducts, along with insulation, 10 vents, and 2 returns, are being replaced. However, it can cost up to $12,000 to retrofit 300 linear feet of brand-new ductwork into an existing house.
Can I install my own HVAC ducts?
Although replacing ductwork can be done on your own, it is a delicate and involved project that necessitates some prior understanding of how HVAC systems are built. If you do decide to tackle the task yourself, it is best done with the aid of skilled contractors, which can significantly reduce the issues you run into. Inadequate installation can obstruct airflow and lower the overall effectiveness of your HVAC system. The efficiency of your HVAC system will depend on how your new ducts are installed, making them crucial to long-term energy and financial savings.
Is it worth it to replace ductwork?
If you are replacing your 30-year-old HVAC system with a new, high-efficiency unit, you will likely need to replace any outdated ductwork. First, you must insist that the Air Conditioning Contractors of America (ACCA) calculations known as Manual J and D be completed by your HVAC contractor. The layout of the ductwork that best balances the forces opposing it with the requirements for airflow is determined using these manual calculations. For instance, due to the higher airflow, outdated ductwork may be too small to function effectively with new HVAC systems.
The Steps To A Quality Duct Installation
Garner's installation is quick, but it isn't rushed. We take care to make a new new structure that lasts for years. These are the steps that we take:
Step 1: Proper Design - We will layout an organized plan for where the ducts and registers should go and what size they should be.
Step 2: Strategic Cutting - If a hole in your floor needs to be made, it will be neat and have the best placement possible.
Step 3: Putting it All Together - The equipment will be properly fitted together and secured.
Step 4: Cleaning - Special care is made throughout the entire process so that your home remains clean. When our technician leaves, all construction debris and tools will be gone.
Garner Guarantees 100% Satisfaction
We can provide you with one dependable duct installation job or provide you with reliable, ongoing HVAC work and maintenance, but we will always guarantee your satisfaction. And we are here seven days a week to answer questions before and after any job we do for you. Call 512-392-2000 to get started.
Garner is a licensed company with over 35 years of experience serving Hays County. We are proud of our EPA and NATE certifications as well as our outstanding reputation.