Keep Your Central Texas HVAC System Running Right!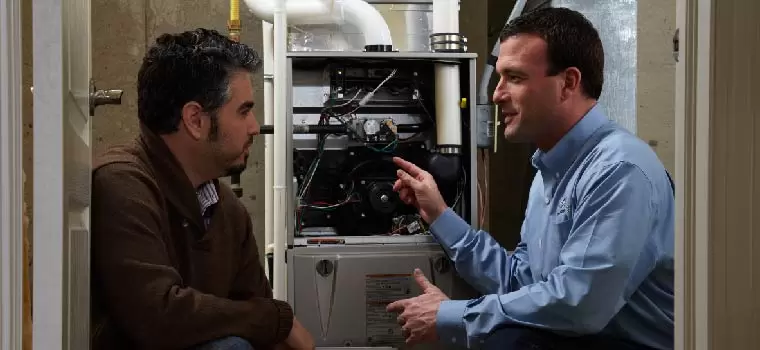 Your home (or business) heating and cooling system is one of the largest investments you will make. Proper maintenance not only helps to keep your system running as efficiently as possible, but also helps to prolong the life of your system and prevent premature replacement. Our Maintenance Agreement service is an easy, cost-affordable way to ensure your system is well taken care of – without all the hassles of doing it yourself.
HVAC Mainteance FAQs
What is HVAC maintenance?
HVAC maintenance involves inspecting, cleaning, testing, and possibly even repairing and replacing individual system parts in order to maintain the heater or air conditioner. You can avoid bigger issues with your HVAC system by investing in routine maintenance.
What does a HVAC tune-up consist of?
You or your HVAC technician will use a checklist to make sure every component of the air conditioner or heater is maintained.
With regard to cleaning:

When cleaning an HVAC system, there are a few tasks that must be completed. It will be necessary to clean the outdoor unit of dirt, debris, and leaves. You'll also need to clean your filters. Next, various HVAC system components like the condenser coils, drain lines, drain pans, and evaporator coils will need to be cleaned.

With regard to inspections:

The HVAC technician will look at a number of components, including capacitors, condenser coils, contactors, ductwork, electrical wiring connections, fan blades, heat exchangers, and service valves. It's also crucial to check to see if the HVAC system is emitting any odors.

Lubrication:

An HVAC system contains many moving parts, which is why it is crucial to lubricate various components when maintenance is carried out. Lack of proper lubrication can lead to grinding and friction between parts, which can seriously damage the HVAC system.
Are HVAC tune-ups worth it?
Yes, it is both highly necessary and worthwhile. HVAC upkeep is essential for a variety of reasons, but one of the most crucial is that it increases system longevity. Your HVAC system's lifespan may be shortened if you neglect routine maintenance. By getting maintenance, you can extend the life of the machine. 
Additionally, HVAC maintenance can reduce your expenses, conserve energy, improve the quality of the air inside your home, make your HVAC system run more efficiently, and prevent repairs. An HVAC system depends on all of these factors, which is why maintenance is crucial.
Seeing is Believing
Below are some pictures from systems we have serviced that were NOT properly maintained – problems that could have been easily corrected with simple, regular maintenance.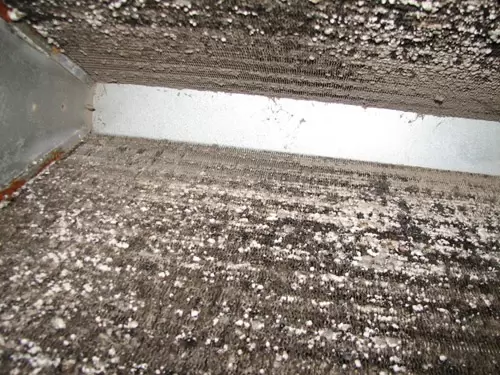 Not replacing your air filter every 30 days could lead to this condition in your evaporator coil. This will cause serious irreversible damage to your compressor, not to mention poor cooling and heating performance and high cost to operate!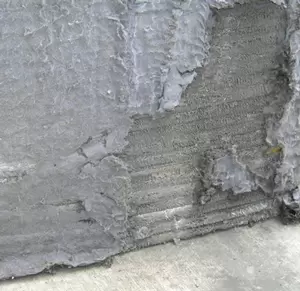 This condenser coil (in the outdoor unit) had not been cleaned in several years, leading to premature failure. Most of the debris you can see is from a dryer vent located close to the outdoor unit. You can see where we pulled away some of the debris to reveal the coil underneath. Condenser coils need to be regularly cleaned for systems to operate at their maximum potential.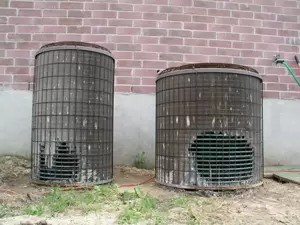 Does your dog use your condensing unit to mark his territory? This deterioration cannot always be seen as well as this one, but can cause premature compressor failure, poor performance and high cost to operate.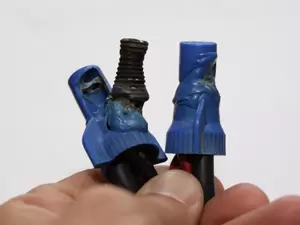 We found this poor electrical connection on one of our Spring inspections. The heat energy from this poor high voltage connection could have caused thousands of dollars in fire damage if not caught in time!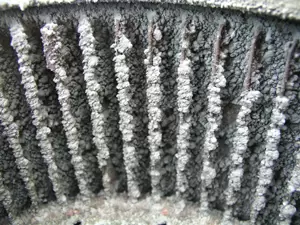 Dust, mold and mildew are often found on your blower assembly. This is very common!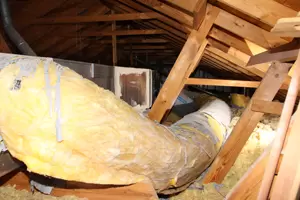 Ductwork is often overlooked. You can be wasting energy dollars and allowing dust and dirt into the airspace that you and your family breathe.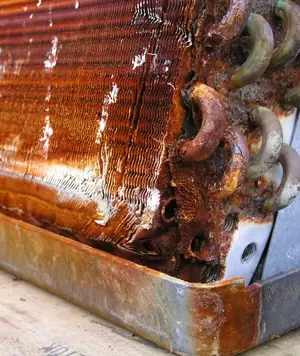 This 8 year old system had to be replaced prematurely due to continual condensate drain overflows. Notice the rusted end plates. This caused refrigerant leakage and mold/mildew growth on the indoor coil.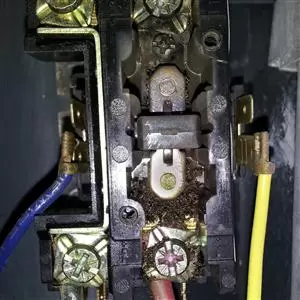 This is a very common problem in our area. Fire Ants love electrical ozone, in fact they have an irresistible attraction to it! Fire Ants will get themselves in between the electrical contacts in various places in an AC unit and cause unnecessary damage that can cost you hundreds, hundreds that you could be spending on better things! This is one of our more common repairs too! If you are on our Maintenance Plan, during you Spring tune-up we spray a substance that will keep these ants from getting in and causing damage.