We Fix Ducts To Improve Efficiency
Central heat and air relies on ducts to provide a consistent temperature all throughout your Hays County house. But if yours are compromised and are in need of air duct repair, you might notice several signs, such as:
Abnormally high utility bills in winter and summer.

Visible kinks in the ductwork.

Difficulty heating and cooling despite adjusting the thermostat.
Ducts that are at risk for holes and tears include ducts that are:
Older.

Located "out of the way" in crawlspaces or attics.

Improperly installed from a disreputable company.

Self-repaired with duct tape or improper sealant.
Garner's air duct repair and sealing service will take these problems off your hands and transform your ducts into perfectly secure air tunnels.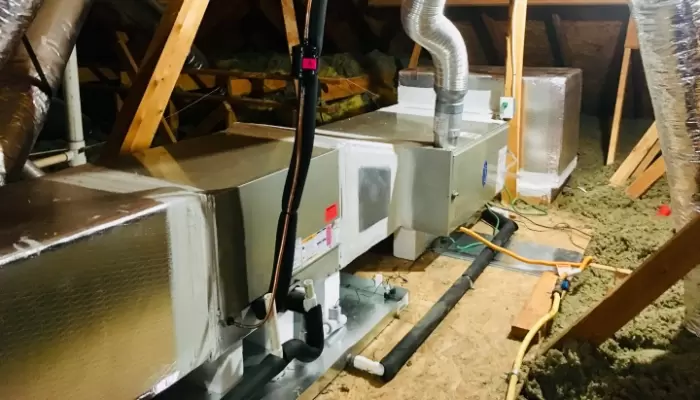 How do you fix a torn air duct?
Yes, flexible ductwork can benefit from repairs. Add a hanger strap next to the slipping connection to fix the loose collar on the flexible duct and release any tension. Add more hanging straps all the way along the duct run. Using pliers or wire cutters, cut the duct strap. Remove the insulation from the connection by pulling it. To ensure that the insulation is properly covered, adjust the outer liner. On the butt edge of the outer layer, apply mastic. When the mastic has sealed the connection, slide the connection together and mash the materials together; then, secure it with a duct strap. Apply mastic to the joint's exterior.
A slightly different process is used for sheet metal ducting. The hanging straps or brackets on either side of the repair area should first be loosened. To inspect the leaking joint, sufficiently lower the duct. This kind of leak typically only requires additional sealant, but large gaps should be fully exposed and examined. Take the joint apart and reconnect it properly if the large gap was caused by a missing or improperly installed S-lock.
Can you patch HVAC ductwork?
Yes, in some circumstances it is possible. For this process, the hole does indeed need to be smaller. Your ductwork's entire perimeter should first be thoroughly cleaned with soapy water, followed by a thorough rinse and complete drying. After that, you can use Underwriters Laboratory (UL) 181 foil-backed tape to seal the duct hole. High temperatures can be tolerated when using this tape. Any tape that has not been authorized for use on ductwork presents a risk of fire and smoke.
Calling Garner For Help With Air Ducts Promises Better Heating & Cooling
How much air is lost from ducts in an average home? If you guessed 20 percent or higher, you're right on the money. Sealing up damaged ducts can give you a similar experience to upgrading to a higher efficiency heating and cooling unit--now just imagine what both of those improvements could do together!
Even without a system upgrade, having repaired or sealed ducts by Garner will raise the efficiency of your whole system and leave you assured that your whole duct system is in good working order.
Garner is the HVAC Company That Listens to the Needs of Hays County
Since 1988, we have seen a lot of heating and cooling technologies come and go, but secure ductwork is one thing that hasn't been a fad. Our experts know how vital it is for your system, and we take care to doing each job correctly the first time.
The community chooses us for our
100% Satisfaction Guarantee

Well-trained, Licensed & Experienced Staff

Drug-Free Company

Honest, Family Mentality
If you're concerned that your home has leaky air ducts in need of sealing and repair, call 512-392-2000 . We'll evaluate your ductwork and make a recommendation to improve your energy efficiency and home comfort.