Bringing the Heat in Hays County
A warm and cozy retreat makes it easier to get through the chilly days. But you won't be able to create that perfect, inviting atmosphere if your heater isn't up to snuff. Garner is your local HVAC professional for top-notch heating service, and we'll have your home ready to coast through winter without a single shiver.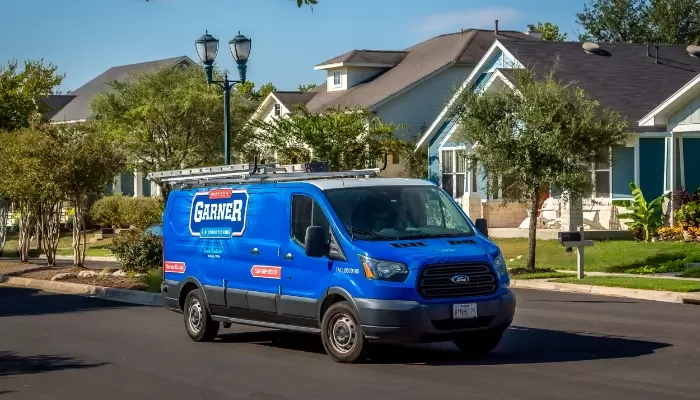 Why is cold air coming out of my vents when the heat is on in my Buda, TX area home?
Cold air may be coming out of your vents when the heat is on in your Buda, TX home because:
Your thermostat is set to ON not AUTO.
Your air filters are dirty or clogged.
Your heating system has overheated.
When your heating system doesn't work as it should, it can be very inconvenient, especially in the winter. If you find that your heating system is blowing cold air for a reason other than the first two listed above, you should get your heater repaired by a technician. To get your heater repaired, contact us today.
How do I fix my home heating system near Buda, TX?
Some ways to fix your home heating system in Buda, TX include:
Ensure that your thermostat is set to the correct setting.
Check the circuit breaker that powers your heating system is working.
Reset your heating system with its reset button (if it has one).
Replace your dirty or clogged air filter.
Check your vents and outdoor unit to ensure they aren't blocked.
When your home heating system is not working, it will typically have to do with the power supply, the air filters, the thermostat or the unit itself. Some issues are easier to fix than others, so if you encounter an issue that you aren't familiar with, we recommend that you get an HVAC technician to fix it. Call us today to get your heating system repaired.
How much does it cost to replace a central heat and air system near Buda, TX?
It costs around $6,000-$10,000 to replace a central heat and air system in Buda, TX. However, some things that can affect the overall price are:
The size of your house.
The type of central heat and air system you want.
The cost to remove the old unit and install the new unit.
A central heat and air system can be expensive to replace, but it is a great investment because it increases your home's value and decreases your energy bills. To find out more about getting your central heat and air system replaced, give Garner Heating & Air Conditioning a call today.
Professional Attention, Expert Service
Garner can help you with heating repairs, replacements and maintenance. We are a Carrier Factory Authorized Dealer, so our highly-skilled technicians can install quality Carrier products with dependable workmanship - but we can also work on and replace a variety of systems, so we'll never leave you out in the cold. We can diagnose and repair heating issues such as:
Heating Failure

Inadequate Heating

Odd Noises or Smells

Excess Energy Usage From Heating

Uneven Heating

Odd Colored Pilot Light
Plus, we can let you know if your system has reached the end of its functional lifespan and recommend a new, more efficient and cost-effective replacement.
For the Best Choice in Reliable Heating Service, It's Got to be Garner
Since 1988 Garner Heating & Air Conditioning has been at the forefront of exceptional heating service. We continue to build our outstanding reputation every day for all things HVAC with new installations, repairs and maintenance visits. We take great pride in our:
NATE, NCI & EPA Certified Technicians

Family-Founded Company & Mentality

Promise For 100% Satisfaction

Carrier Factory Dealer Authorization to Ensure Top Quality Products

High Standards For Our Customer Service
Reach us any day of the week at 512-392-2000 to join others all over Hays County that have already experienced the Garner difference, and treat yourself to a cozy winter.