Kill Germs & Eliminate Odors With an Ultraviolet Air Treatment System
There may be bacteria and contaminants growing within your ductwork and HVAC system that you can't even see. An HVAC UV light can kill those microorganisms to improve indoor air quality. Their technology stems from the natural powers of sunlight. It is no surprise that today it is effectively used in our HVAC systems to sterilize the air.
Garner provides HVAC UV lights to any home in Hays County needing fresher, safer indoor air. We also supply air and furnace filters and media air cleaners.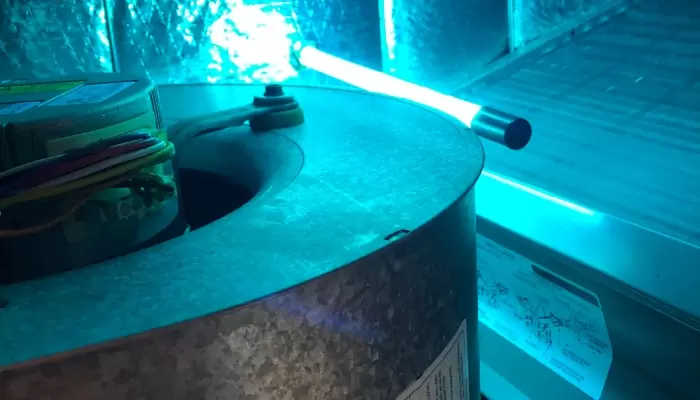 How can I improve my indoor air quality?
Some measures you can take to improve the quality of your indoor air include:
Open a window

- Most of our homes are sealed up tight to prevent valuable temperature controlled air from escaping. Unfortunately, that also means you could be sealing up the harmful pollutants within. Ventilating the air inside helps clean it out of things like fumes from paint, harmful chemicals from cleaning supplies and other indoor pollutants. 

Limit VOCs

- VOCs, or volatile organic compounds, are in cleaning supplies and other household items. When these substances are emitted into the air, especially in a spray form, they can linger and lower the air quality. Limiting these products can limit the pollutants in your home air. 

Keep it clean

- Regularly vacuuming, dusting and cleaning can help control the dust and allergen levels in your home. Try to wash textiles, like bedding and curtains, frequently, and keep surfaces free of clutter so dust accumulation is minimized. 
Air purification - You may want to consider investing in an air purification system. At Garner Heating & Air Conditioning, we offer a variety of products to help clean the air in your home. Contact us online today for more information.
What does a UV light do in an air conditioner?
A UV (ultraviolet) light in an air conditioner works to kill bacteria in conjunction with the cooling system. As the system pulls air into circulation, the air is forced to pass through the UV light. The waves of the light destroy the molecular bonds that hold together the DNA of viruses, mold and bacteria, killing them in the process. The air is then passed through the system and back into the living space, cool, clean and free of contaminants.
Does my AC unit need UV germicidal lights?
UV germicidal lights in an AC are a great way to purify the air in your home. UV lights kill microbes, mold spores and viruses, leaving you less prone to colds and allergies. They also can be beneficial for those with respiratory issues since the light neutralizes VOCs. 
UV lights are not effective against pet dander and will not kill dust mites. For optimal indoor air quality, UV lights should be used in conjunction with completely sealed ductwork and air filters that have a high MERV rating. 
For more information on UV germicidal lights, please contact us online. Garner specializes in quality UV light products for your home and we are happy to answer any questions you may have.
How an HVAC UV Light Can Really Benefit Your Home
A UV light's main goal in your HVAC system is to eliminate organic buildup. The top benefits of this are:
Reduction of mold and bacteria in your home.

A cleaner evaporator coil for improved AC efficiency.

Elimination of smells and volatile organic compounds (VOCs).

Lowered spread of illness like cold and flu.
Garner Solves Indoor Air Quality & HVAC Issues All Over Hays County
If we had to estimate how many households we've helped to improve comfort and health since we were founded in 1988, we would be stumped. We have provided HVAC services to a large number of households spread across Hays County, and many of them are ongoing relationships through maintenance agreements.
We're proud of the positive feedback we have received and continue to receive, and we stand by our 100% satisfaction guarantee. Customers also choose us for:
Up-to-Date, Professional Training

NATE & EPA Certifications

No Shortcuts or "Rule of Thumb"s

Drug-Free and Considerate Technicians
Are you ready to improve your home's air quality with the power of sunlight? Call Garner at 512-392-2000 today to schedule your HVAC UV light installation.