Why You Should Make Sure Your HVAC Technician is NATE Certified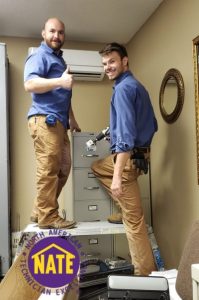 The acronym NATE stands for North American Technician Excellence, Inc., an organization dedicated to educating technicians on multiple aspects of HVAC systems. To obtain NATE certification, one must complete requisite education and pass a battery of tests to prove they are more than just proficient in their craft. Earning NATE certification proves that an HVAC technician is a knowledgeable expert in the heating and cooling field.
You may think you're saving money by working with an uncertified contractor, but you might regret your decision later if a service is carried out incorrectly and results in costly repairs down the road!
4 Reasons To Always Look For NATE Certified HVAC Technicians
Knowledge
Like any other service, you probably want to make sure the person you're working with knows what they're doing. For example, you probably wouldn't schedule an appointment with a dentist who never went to dental school. So why let unqualified individuals work on your home comfort systems? Because they have documentation to prove their knowledge of HVAC systems, you can be confident that our NATE certified technicians will get the job done right the first time!
Training
While a lack of documentation doesn't mean an individual is less dedicated to their craft, becoming NATE certified is not easy! All participants have attended rigorous training and testing in order to become experts; this means they are passionate about and devoted to their work. An expert who pays attention to fine details and is interested in his or her profession is always preferable.
Expertise
In order to become NATE certified, one must illustrate extensive knowledge of a variety of technical subjects within the HVAC industry. Some specializations include:
Air Distribution
Heat Pumps
Air Conditioning
Oil/Gas Furnaces
Maximizing Efficiency
Oil/Gas Hydronics
No matter what your comfort problem is, you can count on a NATE certified technician for the solution!

Statistics

According to statistics collected by NATE Inc. itself, certified technicians are called back to correct a service 13% fewer times than uncertified individuals. Additionally, more than 20% more customers reported that they were exceptionally happy with NATE certified professionals. Overall, the decision is clear, people prefer the reliability and dependability certification provides.

Here at Garner Heating & Air Conditioning, we make it a priority to ensure our technicians are up-to-date on their training and certifications so you receive the highest quality service possible. Give us a call, or text  512-392-2000
for more information. Our NATE certified technicians are happy to help in any way we can!

Letter To Our Customers Regarding COVID-19 » « R22 REFRIGERANT PHASE OUT