Achieve Maximum Comfort for A Minimal Cost
Many of us have become more diligent in energy-saving strategies, but it's difficult to imagine reducing your air conditioner usage to save energy, especially during a scorching Texas summer!
While purchasing energy-saving light bulbs and turning off appliances when you aren't using them definitely reduces costs, up to 70% of your energy bill is attributed to your home comfort system. Effectively cut cooling costs by scheduling regular HVAC maintenance and installing a smart thermostat, today!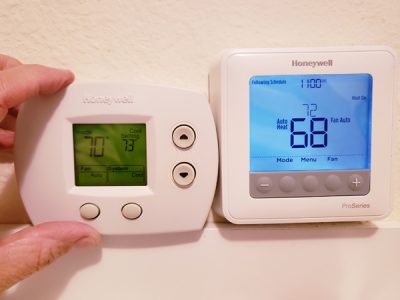 4 Ways a Smart Thermostat Helps Cut Energy Costs
Intuitive Temperature Control
Your smart thermostat is made to conserve as much energy as possible while providing maximum comfort and efficiency by managing your home comfort system. Tell it your preferences during setup and then relax knowing your home will always be comfortable even during 100 degree days. Your smart system will constantly monitor energy use and alert you to inefficiencies and mechanical issues, so you'll be able to address problems before they get out of hand!
Remote Access
Modern technology not only allows us to customize our home comfort systems, but also access them even when we aren't there! By connecting to your smart thermostat's app via Wifi, you can control the temperature in your home from a remote location, in case you forgot to turn down your AC before going on vacation or need to make adjustments for guests.
Extra Features
Sometimes our busy schedules can get the best of us, and we forget about important tasks that are necessary to maintain our systems. Smart thermostats come with additional features that let you know:
When it's time to change the air filters.
How much energy you are using.
When it's time for a maintenance check.
When repairs are needed.
These are only some of the helpful features your smart thermostat is equipped with!

Convenient Scheduling

With family members constantly coming and going, it can be difficult to get the most efficiency out of your system. You want to make sure your system is turned down when everyone is out, but it can be difficult for everyone to remember when they are supposed to turn the thermostat back up. Your smart thermostat will learn your schedule, so no one will have to worry about forgetting to shut the AC off while they're running out the door!

If you're ready to upgrade to a smart thermostat, give us a call at 512-392-2000 to get started. Garner's HVAC professionals are ready to answer your questions and improve your comfort.

4 Easy Clean Air Strategies » « Avoid AC Repairs This Summer