The Importance of Functioning Smoke Detectors
Did you know that May is National Electrical Safety Month? In addition to keeping your home's electrical system up to code, it is equally as imperative to maintain your smoke alarm system, just in case something should ever go awry.
If you do not have smoke detectors installed in your home, or you haven't inspected or maintained your detectors in a while, consider these tips to make sure you have a home fire safety system that is fully equipped to keep you and your family safe!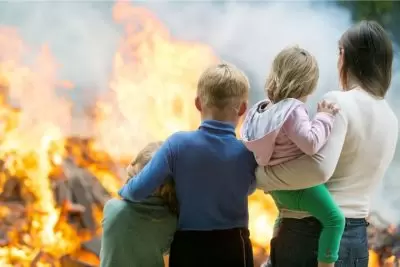 Keeping You Safe:
Roughly 2/3 of the 3,000 home fire deaths reported in the US every year occur in homes without working smoke alarms. Even if you take all of the necessary precautions and turn off your electrical devices when you're not using them, one stray spark can lead to a deadly electrical fire. Most people don't even realize that smoke and deadly gases actually spread faster than the fire itself, creating an additional hazard before flames even begin to consume the home.
Because of this, most people are more often times harmed by inhaling the smoke and harmful gases, rather than burns. Additionally; most fires occur when families are asleep and are thus not aware of the present danger. A smoke alarm will warn residents as soon as the problem is detected, giving them precious time to exit the home. Investing a smoke alarm and properly maintaining it could reduce your risk of dying in a residential fire in half!
Easy Installation:
For a device that helps save lives, it's very easy to install and maintain! You can even do it yourself. First, measure and mark a spot on your ceiling that is at least 300mm away from the nearest wall. Then, raise the base of your smoke alarm against the respective markers, and use the baseplate to indicate the appropriate drilling sites. Next, drill your holes into the ceiling, and screw in the baseplate. Finally, insert the batteries into your alarm, and attach the alarm to the bracket on the ceiling. Make sure to press the button on your alarm to make sure it's working!
Simple to Maintain:
It is important to check your fire safety system regularly to ensure it is performing correctly. Once a month, press and hold the test button for five seconds to make sure your batteries are still alive. Stray particles can lead to false alarms and inhibit smoke from reaching the sensors so dust your detectors when you test! If you have lead or alkaline batteries, replace them twice a year and replace your entire device every ten years. Performing these checks may seem like just another household chore, but a working smoke alarm plays a key role in your family's safety if a residential fire does occur.
In honor of National Electrical Safety Month, we are giving away 5 FREE Smoke Detector Installations to local Kyle, Buda, & San Marcos residents who enter on our Facebook Page! We care about our community and want to make sure everyone in our local area has a functioning smoke detector system to keep their family safe. 
Give us a call at  512-392-2000 , or visit our website to fill out a contact form, or utilize our live chat feature where you can speak directly with a representative.