Frozen Evaporator Coil? Here's What You Should Do Before Calling A Professional
Your air conditioner works hard to provide your family with comfortable, cool air during the high temperatures we have here in Hays County. If your AC evaporator coil freezes, you will be left sweltering in the heat without cool air and may end up dealing with expensive AC repair or replacement bills.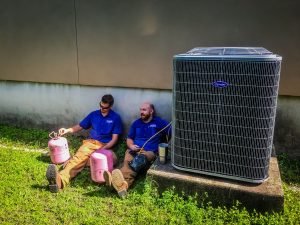 But you might just be able to to solve the problem yourself!
Before you call Garner Heating & Air Conditioning about your air conditioning problem, see if the evaporator coil is indeed the culprit by opening up your indoor air handler and taking a look inside. If the coil is covered with ice, follow these steps to fix your frozen evaporator coil:
 1. Shut down the AC unit. Use your thermostat to completely turn your system off, so that the components are not subjected to more potential stress or damage.
 2. Turn on the AC system fan. Activate your system's fan only setting so that air will still be blown on the evaporator coil. This will help the ice to melt more quickly.
3. Take a look at the blower fan. If the fan is covered in dirt, it should be cleaned by a professional HVAC technician. If you notice something seems wrong with any part of the blower setup, professional repairs might be needed.
 4. Check your air filter. If your air filter is dirty, it may be causing poor air flow that leads to a frozen coil. You can easily replace the air filter yourself if it is dirty. Always remember to change your air filter on a regular basis. Check your filter every 30 days to see if it is dirty enough to warrant replacement.
 5. Turn the AC back on after the ice is gone. If you took it upon yourself to perform necessary cleanings or replacements, wait until all of the ice on the evaporator coil is completely gone before starting up the AC again.
Periodically check your evaporator coil to see if it begins to freeze again. If it doesn't freeze, great! You've solved the problem! However, if it does freeze again, you'll need to call a professional HVAC technician for expert diagnosis and repair.
Contact Garner For Skilled AC Repairs
Whenever you have an evaporator coil problem, or any AC trouble for that matter, call Garner Heating & Air Conditioning at 512-392-2000. We are committed to providing fast, friendly 5 star service to every single client, every single time!